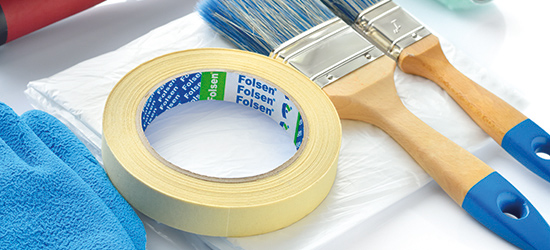 Masking tape for professionals
Folsen offers a wide range of premium quality masking tapes. Whether you are a beginner, or a professional craftsmen, you will find this brief guide on our masking tape range useful.
For general applications and for indoor home use, as well as for professional use in construction sites  – Folsen 023 masking tape is a perfect choice. There is also a version of this tape specifically designed for delicate surfaces – Folsen Delicate.
When there is extremely precise edge required, you should use our state-of-the-art Perfect Edge product line – Folsen 028 and 026. These products provide best performance both indoor and outdoor and are well known by industry professionals. If your painting area requires a curved shape Folsen 029 will be the right solution. High crepe paper of this masking tape makes it flexible to adapt perfectly for the right curve you need.
Folsen also offers range of PVC based masking tapes – for outdoor painting and plastering.
But if you are working in automotive segment, take a look at our range of automotive masking tapes. Folsen 022 automotive masking tape is suitable for all main bodyworks with temperatures up to 80°C (60 min). For high performance automotive applications, we have developed our Folsen 0220 product – which is particularly suitable when higher adhesion is required and the drying temperatures are higher (90°C for 60 min, 110°C for 30 min).