Performance Automotive Masking tape PRO CAR
Art. 0220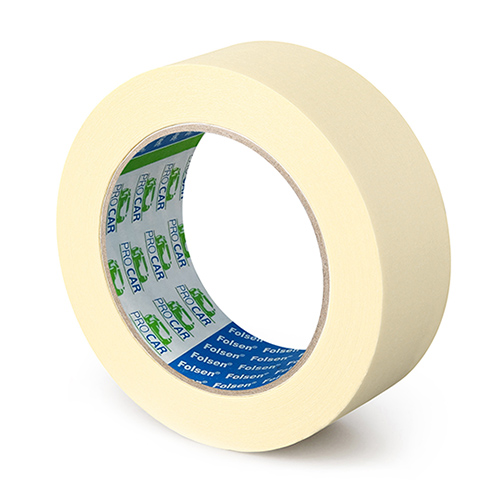 Crepe paper masking tape with high performance, specific for automotive sector during collision repairs and painting processes with drying cycles at high temperatures up to 110 °C (for 30 min). It combines controlled unwinding, easy tear and conformability.
Well performing in overlapping the tape, with masking paper and masking film, it provides excellent paint edges, clean and safe removal without residues and breaking.
Features
Temperature resistance 90 °C – 60 min, 110°C – 30 min
High performance
Suitable for all kinds of paints
No residue
Removal without breaking
Contact us
Why choose us
Facts & Figures
Folsen business insights at a glance
300+ products
Over 300 premium quality products
10+ years
More than 10 years of experience
15+ countries
Exporting to 15 countries and counting
Industrial purposes
Cost-effective solutions for industrial use
Household jobs
Excellent products for consumer purposes
Professional craftsmen
Tailor-made solutions for craftsmen needs
Work with us
Start a partnership
Interested in starting a partnership with us? Check out our product catalogue or contact us to find out more about our tailor-made solutions!
View catalogue
Contact us