PVC insulating tape FLAME RETARDANT
Art. 01251
Art. 01351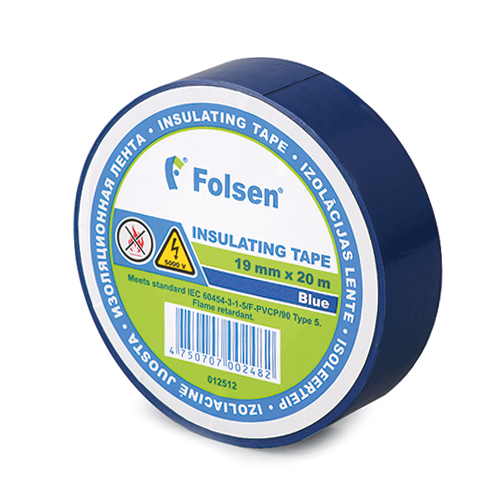 This tape is based on a 0.10 mm soſt PVC film, coated with an aggressive rubber- resin adhesive with flame retardancy and good aging characteristics. Excellent conformability and high elongation at break. This tape is designed to comply with BS3924 EN-60454 standard. It is suitable for use between 0 to 80 °C. REACH conformed.
Features
Protection against voltages up to 5000 V
Suitable for use from 0 to 80 °С
Flame retardant
Conforms to IEC 60454-3-1-5/F-PVCP/90 Type 5 standards
Contact us
Product specifications
Download product specifications
Download ↓
Why choose us
Facts & Figures
Folsen business insights at a glance
300+ products
Over 300 premium quality products
10+ years
More than 10 years of experience
15+ countries
Exporting to 15 countries and counting
Industrial purposes
Cost-effective solutions for industrial use
Household jobs
Excellent products for consumer purposes
Professional craftsmen
Tailor-made solutions for craftsmen needs
Work with us
Start a partnership
Interested in starting a partnership with us? Check out our product catalogue or contact us to find out more about our tailor-made solutions!
View catalogue
Contact us