PVC insulating tape PREMIUM
Art. 01210
Art. 01310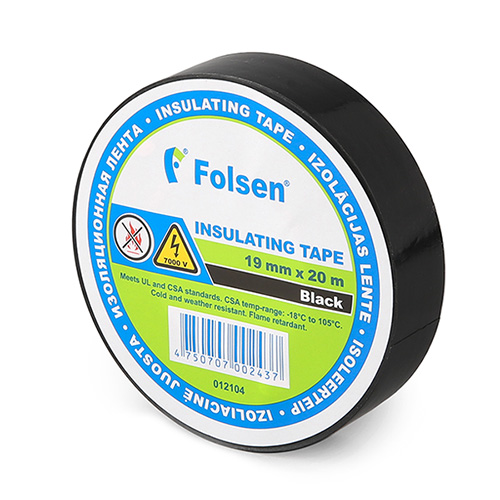 PVC film, flame-retardant, cold and weather resistant insulating tape. Has strong and durable qualities, can be stretched without tearing. Rubber adhesive has good aging characteristics. UL listed, CSA certified. Temperature range: -10 °C to 105 °C.
For use as electrical insulation, bundling, coding identification and marking on joints and splices in wires, pipe and cable. For indoor or outdoor uses.
Features
Protection against voltages up to 7000 V
Suitable for use from -18 to 105 °С
Conforms to UL, CSA standards
Contact us
Product specifications
Download product specifications
Download ↓
Why choose us
Facts & Figures
Folsen business insights at a glance
300+ products
Over 300 premium quality products
10+ years
More than 10 years of experience
15+ countries
Exporting to 15 countries and counting
Industrial purposes
Cost-effective solutions for industrial use
Household jobs
Excellent products for consumer purposes
Professional craftsmen
Tailor-made solutions for craftsmen needs
Work with us
Start a partnership
Interested in starting a partnership with us? Check out our product catalogue or contact us to find out more about our tailor-made solutions!
View catalogue
Contact us