Anti-slip tape Clear
Art. 068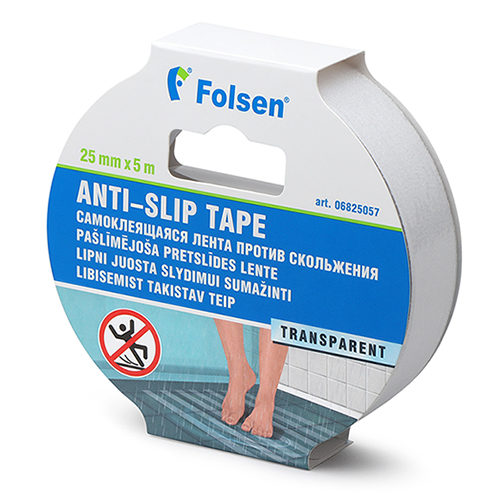 Folsen water resistant anti slip tape is perfectly designed for very strong adhesive performance providing secure grip. Meanwhile tape is resistant to all cleaning products as well as to temperatures between -20C to +80C degrees, assuring no cracking or pealing.
Tape can be applied quickly and easily to clean, dry, degreased surface – just remove protective paper and glue the tape, pressing it to the surface.
Excellent transparency and soft matt touch feel, fits any interior and is comfortable for bare feet when stepped.
Features
Transparent
Comfortable touch
Water resistant
Resistant to temperature fluctuations
Easy to apply
Contact us
Product specifications
Download product specifications
Download ↓
Why choose us
Facts & Figures
Folsen business insights at a glance
300+ products
Over 300 premium quality products
10+ years
More than 10 years of experience
15+ countries
Exporting to 15 countries and counting
Industrial purposes
Cost-effective solutions for industrial use
Household jobs
Excellent products for consumer purposes
Professional craftsmen
Tailor-made solutions for craftsmen needs
Work with us
Start a partnership
Interested in starting a partnership with us? Check out our product catalogue or contact us to find out more about our tailor-made solutions!
View catalogue
Contact us